Are you an avid traveler wondering how to navigate through the endless backpack choices? Look no further! With this article, you'll gain a comprehensive guide to the evolution of backpacks from classic designs to modern innovations.From function to fashion, you'll have all the knowledge needed to make a smart and savvy pick for your next getaway.
Backpacks have been used to carry items by hikers, campers and travelers for centuries. The original design has evolved throughout the years, but the basic idea has remained the same: a light-weight, portable enclosure with straps for easy carrying. From canvas packs to hydration systems and hidden pockets, advancements in backpack technology have made it easier than ever to store items securely and safely on the go.
This article will explore this evolution of backpack design from classic designs to modern innovations, highlighting key features and why they are beneficial for travelers.
Brief history of backpacks for travelers
The use of backpacks for travel can be traced back to ancient times when nomads and travelers designed them to transport items conveniently. Since then, the purpose and design of backpacks has evolved to suit travelers' needs. Back in the Middle Ages, gypsies and travelers carried sacks loaded with their belongings over both shoulders using a strap worn over the forehead. By the late 19th century, military-style canvas backpacks were commonplace in many military forces around Europe, followed by outdoor enthusiasts using leather and denim designs like those now used by bikers and hikers.
In modern times, large carrying bags without shoulder straps are rarely seen as backpack designs have become quite specialized for individual needs. Today's travelers require a light weight yet versatile bag that is comfortable to wear for extended periods of time. Many backpacks cater specifically to digital nomads complete with pockets intended for tablets and laptops. Additionally, there are water-resistant options complete with waterproof fabrics like PVC or other synthetic materials that guard against light rain or spills while allowing air flow to keep you cool while on your journey.
With new functional features such as trap doors with magnetic locks, side pockets that improve access efficiency, security features to prevent theft or pickpocketing and adjustable inner divider systems -it is clear that backpack design continues to improve to meet the evolving needs of travelers all around the world.
Classic Backpack Designs for Travelers
The traditional backpack design has been around a long time and it morphs with our changing needs. It is roomy, convenient, and rugged enough to survive your travels.
One tried and true classic design is the mountaineer-style rucksack. This style of bag typically features both a bottom compartment and a top lid that open up to access the contents of the pack. It also has compartments on either side for carrying items like water bottles. The mountaineer is designed for greater stability because it sits close to the wearer's body, lessening the load carried on their back or shoulders. These packs are great for carrying heavier loads over long distances, such as when trekking or camping out in nature far away from civilization.
Another classic design is the travel bag or shoulder bag; this type of backpack usually has one large interior storage compartment with compartments located on either side for easy access items such as phones, travel documents, drinks and snacks. This style allows for an additional layer of organization which makes them more convenient when used regularly in transporting items around town or airports over short distances such as commuting to work or to go sight-seeing while traveling abroad.
Finally, there's the convertible backpack which can be used as a messenger bag by unzipping its main compartment into two sides and flipping them outwards so they resemble a traditional messenger bag shape but have adjustable straps that allow it to act as a backpack when needed by converting back into its original shape when secured together again with buckles on either side of the pack.
Early backpack designs used for travel
From the early days of humanity, when primitive man slung club and spear on his back, the backpack has been a part of how we get from point A to point B. Not surprisingly, advances in materials and design have helped this indispensable piece of equipment evolve over time. Here we take a look at some of the earliest designs for their use in travel.
The knapsack, also known as a haversack or packsack has been around since the 16th century. As an alternative to baskets and carry sacks, they were made from natural materials such as wool or leather. With a wooden hoop frame and attached straps, they provided a more artful way to transport goods on one's back over long distances using only one's arms as leverage.
In 1882, Andrew J Mahar created what is believed to be the first cloth knapsack using duck material with heavy stitching along its edges and leather lacing cord. It was similar in style to what is now known as a rucksack and was used primarily by students who coined the term 'back-packing' around 1920 when hiking trips abroad became popular amongst young adults in Europe .
By 1980s ultralight materials like nylon became popular in backpacks for travelers due to its light weight which allowed for better mobility as well as insulated pockets that held food or water for extended hikes. The external frame backpack also rose to popularity during this period thanks mainly to its compact design that enabled hikers go further and faster than ever before .
Popular backpack styles in the 1960s and 70s
The 1960s and 70s saw a surge in the popularity of backpacks for travelers as people sought to explore new destinations. During this time, there were several backpack styles that gained a lot of traction, with designs that have since become classics.
The first is the classic "suitcase" style with two straps across the top and one along the bottom. This type of pack usually had two compartments—an upper section above the flap and a lower section below—giving travelers more organizational options for their belongings without adding too much bulk or weight.
Meanwhile, Scouts, campers, hikers and other outdoor adventurers gravitated toward packs with external frames constructed from lightweight aluminum material. These packs were designed to be weatherproof and provided good ventilation to ensure maximum comfort during long expeditions. They also featured adjustable straps so users could customize how they wanted their backpacks to be worn.
At the same time, many students opted for basic sack-style packs because they were inexpensive yet still strong enough to carry books and other belongings around campus or town.
Finally, lightweight knapsacks started to gain popularity thanks to advancements in nylon fabric technology that made them both water repellent and breathable while being much more affordable than traditional hiking backpacks with external frames.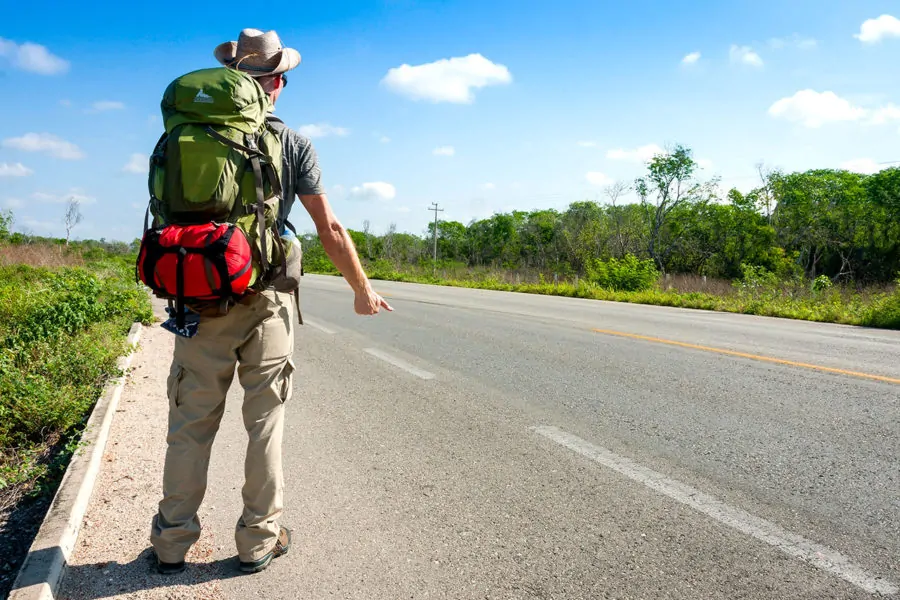 Modern Backpack Innovations for Travelers
As modern day travelers seek convenient and lightweight travel solutions, the design of backpacks has progressed to encompass a wide range of features and styles. Now, popular backpack brands create models specifically for travelers, with unique designs that offer optimal amounts of storage space as well as convenient organization compartments.
Here are some of the most popular modern backpack designs for travelers:
Rolling backpacks:
With enhanced carrying comfort provided by a two-wheeled design, rolling backpacks make it much easier to lug heavy items through airports or busy city streets.
Backpack purses:
Backpack purses are designed specifically for women who prefer a single carrying solution while they explore cities on vacation. These bags usually have multiple pockets both inside and out, allowing items to be quickly located when needed.
Travel laptop bag/backpack:
Perfect for business trips or short weekend getaways, these fashionable yet functional bags come with a dedicated laptop compartment and extra storage space for files or other items.
Backpack briefcase:
The top handle allows you to carry this versatile shoulder bag like a briefcase while its backpack straps facilitate hands-free use during long walks. Backpack briefcases also feature plenty of zippered compartments for efficient item organization.
Introduction of lightweight materials
In recent years, backpack designs have seen a range of innovations, with voyage-worthy bags made from lightweight materials designed to improve comfort, increase efficiency and durability. From robust nylon to ripstop fabrics that protect against wear and tear, modern advances in bag construction make for a wise investment for travelers seeking to maximize both comfort and convenience.
These trends are mirrored in the lightweight metals and plastics used to craft frames or support internal structures within backpacks. Aluminum frames provide strength without excessive weight while advanced plastic composites combine lighter overall weights with the rigidity needed to prevent a sagging bag even after long periods of use on the move. As technology advances, designers can draw upon aerospace grade materials like carbon fiber which are renowned for their light weight yet superior strength desired by adventurers that push their bags to the limit.
These materials also present unique opportunities when paired with unique frame architectures or molded chassis that offer stability, ventilation or even waterproofing capabilities depending on their construction and design. From hidden lumbar support pads for longer hikes through the outdoors to laptop friendly accessories for digital nomads hitting up cafes around the world, the ever evolving nature of backpacks has been matched only by the quality gained from these technological advancements in material science.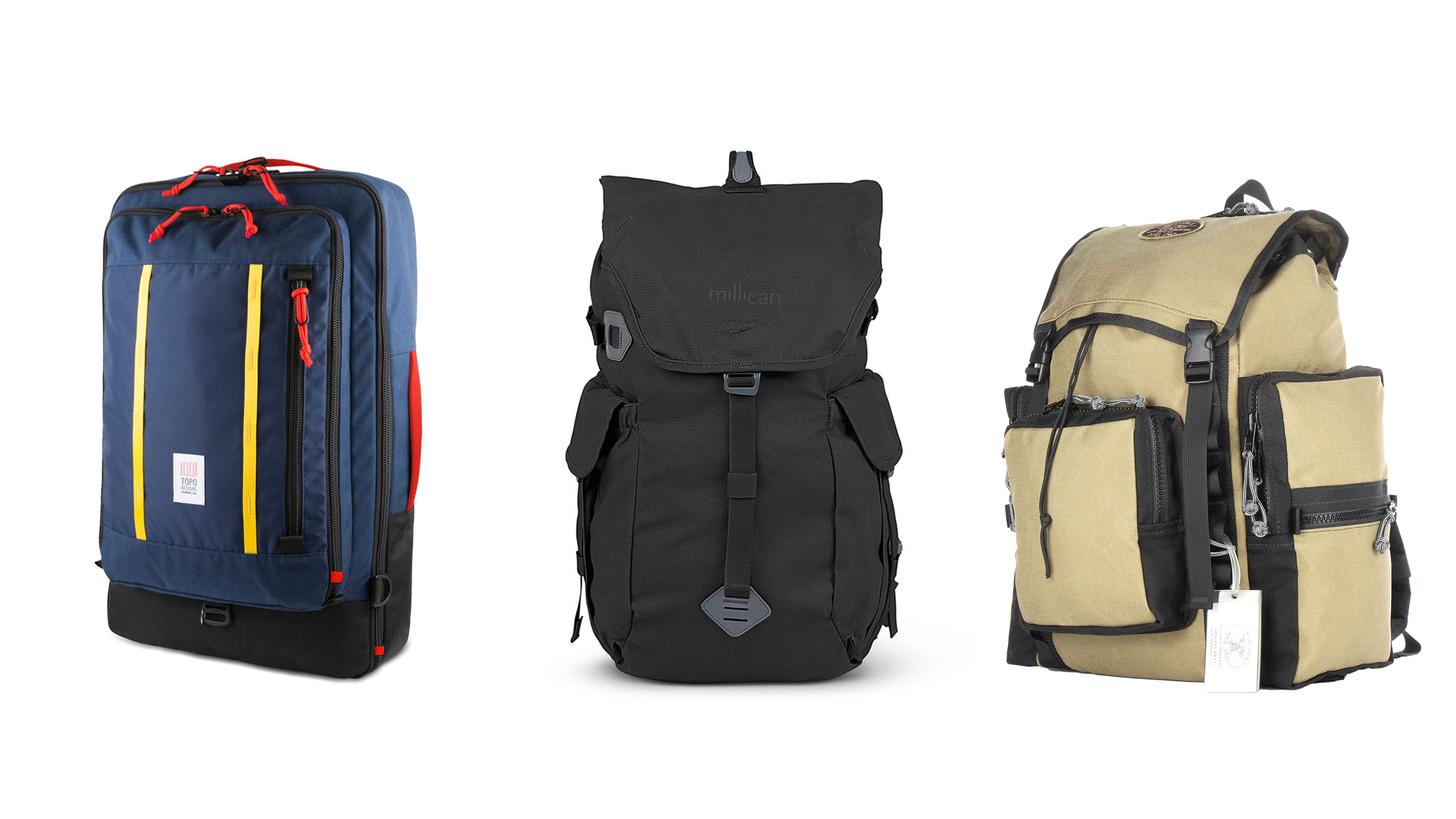 Ergonomic designs and adjustable features
As travelers have sought increasingly efficient ways to transport their belongings and stay organized while on the go, a variety of new designs have emerged that are ergonomically designed for comfort and practicality. Many travel backpacks today feature adjustable straps, waist belts and sternum straps that enable travelers of various sizes and physique to customize the fit to best suit their needs. Additionally, some popular designs such as the top-load backpack are engineered with an aerated mesh back panel that allows air to circulate freely and prevents excessive sweating.
What's more, modern innovations have also allowed for a variety of add-ons such as external pockets for easy access to essential gear or stow away rain covers for unpredictable weather. Some backpacks are even equipped with USB ports so you can charge mobile devices on the go, making them perfect companions for international adventurers or business travelers. With these modern designs becoming more accessible every day, it's easier than ever before to find an innovative pack that meets your individual style, budget and functionality needs.
Backpacks for Specific Types of Travel
Modern travelers have endless options for backpack designs and sizes, and there are packs specifically tailored to various types of travel. Examples include backpacks ideal for the business traveler, weekend adventurers, maritime travelers and many more.
Business travelers may opt for a leather-made backpack such as a laptop bag; it not only adds sophistication to their look but also fits a laptop plus other everyday necessities. For weekend adventurers, they should choose lightweight packs with many compartments that are able to fit into tight spaces.
Maritime travelers should also consider waterproof backpacks made from heavy-duty materials like nylon in order to protect their items from water damage due to exposure during long boat trips. Additionally, those who plan on doing extreme activities such as climbing or skiing will want to invest in a quality rugged travel bag with adjustable straps that can be tightened securely against the body in order to increase stability while trekking and tackling challenging terrains.
Each style of travel demands different features from a backpack depending on the user's intended activities and environments encountered – understanding your type of travel can help you decide which pack is best suited for your needs.
Backpacks for hiking and outdoor travel
Backpacks first became popular as a way to transport goods during the 1800s. As travelers left the cities and ventured into the wilderness, sturdy rucksacks were necessary for carrying supplies and tools.
Today, there are a variety of backpacks designed for hiking and outdoor travel. These packs typically have larger capacities and heavier materials to protect your gear from the elements. Most feature adjustable straps, padding, compartments for organizing items, rain covers and additional features for camping trips or long hikes like insulated pockets for food or hydration packs.
Many also have an external frame which helps distribute weight more evenly on your back and offers support when carrying heavier loads over longer distances.
Backpacks for urban travel and commuting
For folks who prefer to travel in cities and are constantly on the go, frequent commuters, or students looking for a solution when travelling back and forth to school, modern backpacks have gone through some transformations to perfectly suit their needs.
These may come with an optional top handle design for easy carrying from place to place. They are generally designed with multiple compartments for all those everyday items like laptop computers, tablets, literature materials and other necessities that can easily be secured within quick-release buckles and straps.
Aerodynamic shapes reduce bulk in one's movements when running errands or making frequent rest stops in public transportations. Many of them include laptop interior divisions for convenience when taking them anywhere you go along with a specially-customized chest strap as an adjustable waist belt.
Rear ventilated pads are snug yet breathable thanks to mesh-covered foam that gives support but also reduces sweating at the same time keeping the area cool in summer days. Reflective strips make your backpack visible if you commute during nights while anti-theft designs offer extra protection with hidden zippers covered by flaps of fabric or inside compartments holstering precious items without being noticeable from the outside.
Sustainability and Ethical Considerations
Travelers today have a variety of options when it comes to purchasing backpacks, ranging from vegan leathers to recycled fabrics. With the rising awareness of ethical and sustainable practices among travelers, many companies are now focusing on materials that have less of an impact on the environment. Some backpacks are made from organic cotton or hemp, which is a more sustainable choice compared to synthetic materials. Sustainable materials are also more durable, helping to increase the lifetime of a bag.
In addition to sustainability considerations, brands are also addressing animal welfare concerns by using cruelty-free fabrics in their backpacks and sources that avoid fur or leathers that were taken from animals or wildlife habitats. Ethical practices when it comes to sourcing materials used in backpacks are becoming increasingly important for travelers in search of an eco-friendly option that has minimal environmental footprint.
Article written by: Audrey Bugg
Sustainable materials and production methods
Travellers are seeking not only practical and well-designed luggage items that can be used for a lifetime, but also products that are made with minimal environmental cost. As such, manufacturers of backpacks for travelers have developed innovative ways of producing backpacks by utilizing materials and production methods which are sustainable.
One such method is the use of recycled plastics in the making of backpacks. Modern backpack designs often incorporate recycled plastic from reselling scenes, as well as plastic bottles, jars, and other sources. Backpacks produced using this process are easy to identify thanks to their vibrant colors, providing a stylish way to sustainably use resources.
The adoption of synthetic leather is also becoming increasingly popular among backpack companies in order to reduce the need for animal derived materials. Synthetic leather is designed using plant-based ingredients or synthetic polymers which reduce the reliance on natural animal sources while still delivering durable performance and timeless style. Additionally, companies like Patagonia have developed sweatshop-free processes in order to ensure fair and ethical working conditions throughout all stages of production. This practice works toward creating cost-effective backpacks with minimal impact on people or the environment.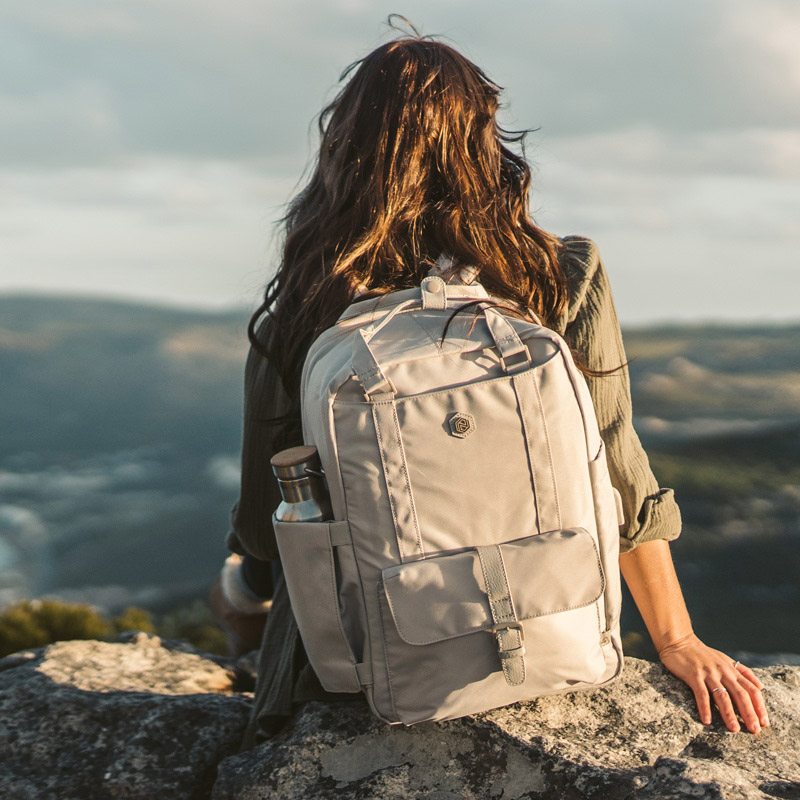 Ethical manufacturing and fair labor practices
As travelers demand increasingly stylish and functional backpacks, companies are responding with more and better design options that are made with materials sourced from environmentally responsible factories around the world. Companies strive to ensure that their products are ethically manufactured using fair labor practices and avoiding exploitative working conditions. Both the production of new textiles and treatment of workers must adhere to certain ethical standards in order for a backpack to be considered 'ethically produced'.
Manufacturers must also work within international conventions on labor rights and safety standards set by the International Labour Organization (ILO) as well as national laws related to wages and working hours. To ensure ethical manufacturing practices, many companies now partner with organizations such as Fair Trade USA or the Freire Currency Exchange, which require suppliers to demonstrate compliance with their principles of fair labor practices before signing any agreements.
Additionally, some companies are now choosing sustainable manufacturing methods such as recycled or upcycled fabrics, zero-waste production processes, water-efficient dyeing technologies, or eco-friendly dyes. These sustainable options reduce energy consumption, as well as pollution from wastewater runoff in urban areas where many backpacks are manufactured. By providing an effective way for travelers to find ethical backpacks that minimize environmental damage while supporting local communities where these products are made, these initiatives help ensure both a socially responsible journey for travelers and make an increasingly positive impact on global development efforts.
Conclusion
In conclusion, the evolution of backpacks designed for travelers is an interesting study in how the right design can make a huge difference in a person's travel experience. From classic designs that evolved to meet the needs of hikers and soldiers to modern innovations that have transformed the way we experience outdoor adventures, backpacks offer function and style with every use.
It's clear that companies are constantly pushing boundaries when it comes to backpack designs, from ergonomics to materials science. As technology continues to progress, so too will the options available for travel backpacks — ensuring comfort and convenience for those who hit the road. No matter what adventure you take on next, there is sure to be a perfect bag out there for you!
See Also :