Are you planning an overnight camping trip and don't know what type of backpack to choose? You want a reliable and comfortable pack that can handle the trip, but don't know where to start?
Let us help you choose the perfect backpack for your next camping adventure!
Going on an overnight camping trip requires extensive planning and preparation. One factor you need to consider is choosing the right backpack. A truly useful, durable and suitable bag should be able to carry the appropriate amount of items while allowing the user maximum comfort. It is important to buy a backpack that can accommodate your body size and age.
Furthermore, because backpacks are exposed to various weather conditions, such as rain or snow, it is important to purchase one made up of materials that don't compromise durability or protection. In this guide you will learn how to choose a suitable backpack for overnight camping trips including what features you should look for when selecting one, how much capacity you need based on the items you're bringing with you and which brand offers quality products that fit into your budget.
By arming yourself with knowledge of the backpacking basics, you can be sure you have a comfortable experience outdoors for years to come!
Explanation of the importance of a good backpack for overnight camping
A good backpack is one of the most important pieces of gear when preparing to go camping, especially if you're planning to stay overnight. Your backpack should hold all your essentials items, including a sleeping bag and tent, plus have adequate pockets for carrying food and other small items. Additionally, it should be able to handle different types of terrain, so you can explore different areas during your camping trip.
For example, a quality sleeping bag can weigh as much as 5 pounds; if your backpack can't handle this weight without causing discomfort or damage to the straps and seams, then it's not the right one for overnight camping.
When choosing a backpack for overnight camping there are several things you need to consider: size, weight capacity and materials.
Capacity
The capacity of your backpack is one of the most important factors to consider when selecting a pack for overnight camping. Choosing the right capacity is essential for comfortable and efficient carrying. Most outdoor stores will divide backpacks into categories based on the volume, or liter size.
For weekend trips where you'll be packing basic gear such as a sleeping bag and tent, look for packs with 25-40 liter capacities. If you're planning a longer trip and need to bring additional items such as cookware and clothing, look for a backpack with 40-60 liter capacity. This should provide enough space to store your essential supplies while keeping the weight at an acceptable level.
For day trips where you'll only be bringing a few snacks, water bottle and lightweight clothing items, you may opt for an even smaller pack in the 10-20 liter range. Remember that some stores may also use 'cubic inch' measurements to indicate capacity, so be sure to compare them to get an accurate understanding of the size of your desired pack.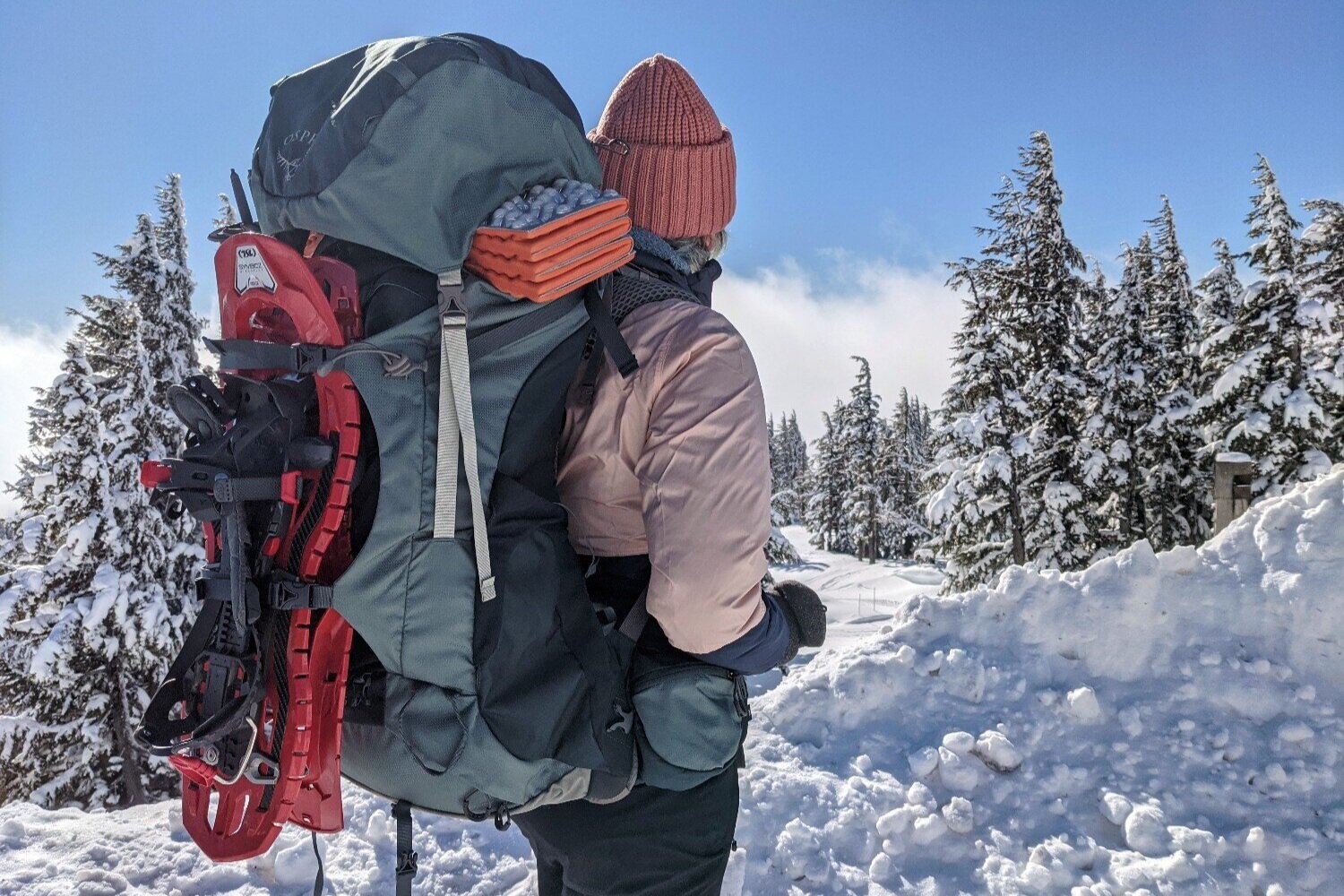 Determining the required capacity based on trip length
For a successful overnight camping trip, it is important to select the right size backpack. Generally, backpacks are sized by the volume they can hold in liters. When selecting a pack, one should take into account the length of time they will be camping and the items they will need to carry.
For short trips of one or two nights, a small pack with 20-35 liter capacity may suffice. These packs can generally hold all necessary clothing, food, and equipment for a shorter excursion. For longer three-day trips or longer, a larger pack with 40+ liters of storage may be more appropriate.
The larger size allows for more gear including sleeping systems and extra clothing layers that may be necessary for colder climates. It is important that the capacity does not exceed personal needs as carrying an overly large pack may strain muscles and cause unwelcome fatigue during your trip.
Factors affecting capacity
When considering the capacity of a camping backpack, multiple factors come into play. User weight and size as well as the intended duration of your overnight trip should be taken into consideration. Additionally, personal preferences and desired comfort level should be part of the equation when selecting your camping backpack.
When determining the correct size of bag for you, bear in mind that capacity is a measure in liters or cubic inches and is dependent on the user's body type. A larger individual may fit more comfortably in a larger capacity pack while a smaller person may feel overwhelmed by one that is too large. Ultralight backpacks are perfect for minimalists but simply won't have enough support for more substantial items like heavier sleeping bags or helmets. As camping equipment can be bulky, having extra volume means that you won't need to leave anything behind to reach your desired weight limit.
The duration of your stay will dictate how much volume you need in terms of storage and the types of items you should bring along. When packing, consider where each item will fit comfortably and make sure to leave room for snacks or last-minute additions like rain gear or night vision goggles if needed. Choose a pack that has adequate storage pockets so that you can store items close at hand instead of storing them at the bottom or top where they could get lost amid everything else. The style features on some backpacks provide easy access to frequently used items; this could improve convenience when trekking through terrain over long durations with minimal time to restock supplies.
Finally, balance functions with user preference; user comfort should be high priority as well as style preference if desired. If customer satisfaction is essential then make sure to select products built with strong shoulder straps, hip belt padding and contoured lumbar support where possible – these will prevent unnecessary fatigue during longer trips so you can focus on enjoying nature instead!
III. Fit
Fit is a very important factor when choosing the correct backpack for overnight camping. A poor fitting backpack can cause discomfort, bad posture and serious long-term damage to your back. To ensure that you select the right backpack for your needs, consider the following factors:
– Frame: Look for a pack with an adjustable frame that fits your body profile, spine angle and size. It should be wide enough to support the load with both straps fully tightened.
– Straps: Adjustable hip, sternum and shoulder straps are all needed for optimum comfort. Make sure you adjust them to fit your body snugly. You want equal weight distribution across your back to balance out the pressure points while carrying a full load and avoid chafing or rubbing on areas like your hips or shoulders. For example, if you are taller than average, look for extended hip belts with more coverage across your backside to ensure comfort during longer hikes.
– Torso length: Proper torso length is essential in terms of fit and comfort. The right size backpack should fit securely close to your body without causing tightness around the chest or riding up above shoulder blades at the bottom of neck area when carrying it correctly on both shoulder straps simultaneously[1]. To find out what size fits best measure from C7 (Cervical 7) all the way down throught he lower back, then take measurements from catalogue description before purchasing a bag[2].
Importance of proper fit
A properly fitting backpack is an essential piece of gear for any camping trip. Whether you're planning a short overnight adventure or a longer week-long journey, the right backpack can make or break your experience. Picking the right bag comes down to understanding your needs and finding a pack with features that match those needs.
When choosing a backpack, it's important to make sure that the fit is comfortable and secure as inadequate fit can lead to problems such as muscle pain, back strain, and fatigue on long treks. To ensure proper fit, adjust the shoulder straps in front of a mirror and tighten the hip belt for support on the hips and lower back. When standing upright, your shoulders should be slightly hunched so that you're able to breathe deeply without restriction. Additionally, all heavy items should be packed close to your body away from heat sources like direct sun or warm clothing layers. As you adjust straps and cross hip belts over waistbands on clothing layers, take into account how much area will be covered in order to find a bag that fits without interference from over-layering clothing items.
Measuring torso length and hip size
Your torso length and hip size play an important role when choosing the right backpack for camping. To get your torso length measurement, you will need to stand in front of a full-length mirror with your arms at your sides. From the base of your neck (top of the shoulder blades) to your waistband is considered your torso length. Having someone else measure from the bone at the base of neck to just above where hip bones (the iliac crest) meet is ideal.
Once you know your torso length measurement, look for a backpack specifically sized for people with that length range. Many pack manufacturers offer different sizes to accommodate different people shapes, including petite and plus sizes. To determine which size will fit best grab a measuring tape and get comfortable; you'll want to measure both hips and waist to ensure that the pack straps will fit comfortably without riding up or down while you move. Measure around the fullest part of hips and also measure around natural waist line (if they differ). Comparing these measurements to manufacturer's sizing charts online should give you an excellent idea as to which size will be best for you.
Features
When considering the features of a backpack, a few key components stand out. To start, look for an adjustable torso that works seamlessly with your body shape and size to comfortably support your gear and body weight. Side straps that adjust independently to the main pack can assist in balancing gear weight along with a hipbelt which should stabilize the bag snugly against your body.
A large zippered pocket near the top is beneficial for quickly stowing items you need easy access too. Padding along the shoulder straps is essential for ensuring comfort during long periods of hiking, and many packs feature loops and straps specifically designed to secure gear such as trekking poles or sleeping pads on the exterior as well.
Lastly, consider getting a waterproof material or cover for optimal protection from wet weather and muddy trails during overnight treks!
Suspension system
A suspension system is a backpack's internal frame. It helps support the pack and reduce stress on the body by transferring much of the weight to the hips. Look for a bag that has an adjustable hip belt and padded shoulder straps, and check that it fits comfortably on your body. The chest strap should also be adjustable — adjust it so that it helps keep the backpack close to your back when you're moving, while allowing you to loosen it when you need a break.
Pockets and compartments
When it comes to pockets and compartments, having multiple options can be helpful when you are organizing your gear for a camping trip. Look for a pack with a large main compartment that can accommodate your sleeping bag and extra clothing. Additionally, you may want a couple of side pockets for quickly stashing items, such as snacks or flashlights. Front stretch pockets allow fast access to important items, like rain jackets or sunglasses.
If you need additional room and won't mind having an extra piece of gear attached to your backpack, try looking for external lash points with daisy chains that can enable you to attach extra items to the pack.
Price
When budgeting for a camping backpack, it is important to consider quality and features. Even if you are on a budget, buying an inexpensive or low-quality bag may prove to be a bad decision in the long run. You should try to find the most bang-for-your-buck, but not at the expense of comfort and functionality.
For day hikes, most people are comfortable with bags ranging anywhere from $50 to $150. But when it comes to overnight trips and multi-day camping trips, it is worth investing more in your bag so that it can stand up to the challenge and conditions that you will face on the trail. High-end backpacks for longer trips can range from $200-$500 or even higher. Look for quality materials such as nylon or Cordura fabric with waterproof coatings, strong stitching joints, adjustable shoulder straps and suspension systems, multiple pockets and compartments for storage of all types of gear, compression straps for weight management and loads of other useful features like rain covers and more.
Budget considerations
Before you begin shopping for a backpack, it's important to consider your budget. Backpacks can range from the relatively inexpensive to the very expensive. Materials, weight and size all add to the cost of a bag.
Be realistic about what you can afford and make sure that you get the right pack for your particular needs. The last thing you want is to purchase a cheap bag only to discover that it isn't strong enough to handle multiple days out on the trail and is uncomfortable when carrying all your gear.
Think about how many times you plan on taking overnight camping trips, as well as other trips where you may need to transport large amounts of equipment—such as multiple pair hikes or multi-day backpacking trips—and purchase an appropriately sized and durable pack for those activities.
Balancing price and quality
When shopping for an overnight camping backpack, you need to balance your price range with quality. To ensure the perfect combination of cost and durability in an outdoor bag, think about how long it needs to last. Camping may be a seasonal activity for many people, but if you plan on using it all year round as your go-to bag for everything from backpacking trips to daily excursions, higher grade materials that can withstand all types of conditions are advised.
Once you've narrowed down your choices based on your budget and what kind of material and features you need for the intended use, it's important to test the bag first before committing to purchase. Ensure that the straps are comfortable and adjustable when wearing the bag with your typical clothing items; some backpacks offer customizable options such as adjustable hip belts that allow you to wear it snugly when carrying heavier loads in addition to providing more support.
Additionally, be sure that every pocket is accessible while wearing the pack and that nothing gets lost in between compartments when walking around/hiking in tight trails or areas with low visibility. Lastly, check zippers – rust and corrosion mean poor quality zippers which may fail quickly without proper care or even pop open unexpectedly – a situation best avoided!
Conclusion
If you're ready to purchase a quality backpack for your upcoming camping trip, you should have the criteria necessary to make an informed decision.
First, determine your desired capacity and pack size, including the features that will best fit your needs. Next, make sure a durable material is used such as Cordura Nylon or Ripstop Nylon and find out what mechanisms are in place to provide load comfort and minimize excess strain.
Read product reviews of the backpacks available so you know exactly what to expect in terms of performance. With these tips in mind, it won't be hard to find a high-quality backpack that suits all of your overnight camping needs!
See Also :